About
After two sold-out Conferences in New York, we're incredibly excited to announce that we're taking SmashingConf to San Francisco! Yes, in April we'll be coming to the Marina District for the very first SmashingConf San Francisco, bringing our own take on great conference experience to a whole new audience. Expect a friendly, valuable and inspiring community event that will help us all, web designers and developers, to become better at what we do.
The main focus of the conference is to provide insights into how we can solve real-life design problems and what workflow we can use to solve them intelligently. Two workshop days and two full conference days that will be neatly packed with practical talks on smart techniques, clever strategies, useful tools, as well as lots of learning, sharing and networking opportunities.
Smashing Conference San Francisco 2016
The Smashing Conference is a four-day event for professional web designers and web developers, to be held in the purpose-built Fort Mason in the middle of the Golden Gate Bridge and Alcatraz, directly at the Bay. We have invited outstanding, inspiring speakers, and we look forward to a day full of stimulating, expert workshops.
We'd like to explore what works and doesn't work in actual real-life projects. That's why the conference will be focused on practical takeaways, workflows and hands-on insights. The goal is that every talk will deliver tangible, actionable points that we all will be able to learn from and use right away.
On Monday, April 4th and Thursday, April 7th, we'll be hosting full-day workshops . We're also preparing a pre-conference-evening for attendees to meet before the event, with a range of talks by the attendees.
Tuesday and Wednesday are conference days, dedicated to high-quality talks by some of the most well-respected and talented experts in the industry. We always keep the friendly and informal atmosphere at our events, so grabbing a beer with a speaker won't be an issue. A party in the evening will give you an opportunity to relax and network after a long first day.
The ticket sales start on Tuesday, October 27th, with the regular ticket price $599.00 — including all booking fees.
You can save $100 when purchasing both a conference ticket and a workshop. Student discounts (25% off) are available upon request as well.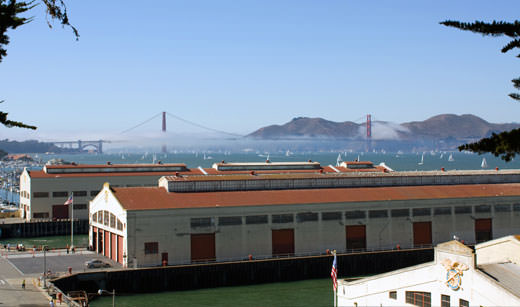 The conference will take place in the "Cowell Theater, Fort Mason" in San Francisco. Image Credit.
---
Accessibility
Conference & Workshop Venue
All of our venues are wheelchair accessible. The Fort Mason Landmark Building C provides you with an elevator at the site entrace. We'll reserve you some extra space in front of the stage upon request (please let us know at hello@smashingconf.com).
Dietary Requirements
If you have any special dietary requirements, please don't hesitate to contact us at hello@smashingconf.com as well, but we'll ask for that anyways.
---
Why the Smashing Conference?
Since 2006, Smashing Magazine has been delivering useful and innovative information to web designers and developers around the world. The design community is full of talented and hard-working folks who come up with brilliant ideas every day. We provide a platform to share and discuss the work and knowledge of the best designers and developers out there, chase down the latest developments in the industry and stay on top of new techniques, methods, workflows and tricks.
In 2012, we've teamed up with Marc Thiele from BeyondTellerrand to take Smashing Magazine's philosophy to the next level and create the very first Smashing Conference. The event was a huge success and a lot of fun, and so we were delighted to run it again in 2013, with the same location, the same format, the same fantastic atmosphere and new first-class speakers.
The conference moves beyond online communication and aims to bring web designers and developers closer together. We want to provide a forward-thinking event where you can connect and network with others on a personal level in a beautiful yet friendly environment.
We aim to deliver the same high-quality content that Smashing Magazine delivers, while adding a personal element to create an experience that brings great value to everyone involved. We'd love you to share how you work, design, code and build the web today and how we can all benefit from our experience to get better at our work.
---
Smashing Conference Facts Sheet
What? A community event for web designers and developers, featuring experts from the web design community
Who? The main organizers are Smashing Magazine's Vitaly Friedman and the Smashing Team
When? April 4-7, 2016 (conference on 17-7th, workshops on 4th and 7th)
Where? San Francisco, CA
Conference venue: Fort Mason, Cowell Theater, Marina District, San Francisco
Workshop venue: Fort Mason, Landmark Building C, Marina District, San Francisco
Tickets: 400
Ticket prices: Conference passes cost $599.00 Student discounts are available.
---
Online Resources
---