Stakeholder-Friendly, OKR-Based Design Workflow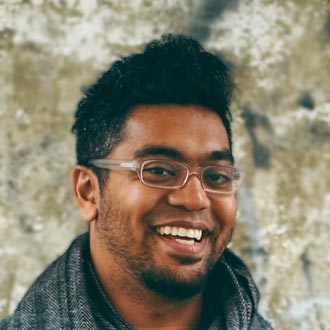 Full-day workshop • Monday October 22nd
In this workshop, Dan will share insights into his tools and techniques for integrating design thinking into your product development process. You'll learn how to craft powerful design approaches through collaborative brainstorming techniques, and how to involve your entire team in the design process.
You'll learn
1) Introduce a collaborative, team-based design approach
Increase your team's efficiency and remove the overhead of heavy design deliverables
Brainstorm ideas for a real-world design project using divergent and convergent approaches
Write your product's value proposition to immediately get your project on track
2) Establish success criteria for your design projects
Use Objectives and Key Results (OKRs), Key Performance Indicators (KPIs), Jobs-to-be-Done, and other frameworks to align your projects to organizational priorities
Use the KJ Technique, a collaborative prioritization method, to define project goals
Get the design juices flowing using familiar elements of the Design Studio method
3) Assemble, sketch, and code your team's design approaches
Use the "3Cs" (Create, Collect, and Code) framework for team ideation and collaboration
Create element collages, an assembly of disparate design elements, to communicate ideas
Learn to effectively articulate your design ideas through a mini demo day
4) Iterate and converge on a design solution that addresses a real-world problem
Use Pinterest boards, element collages, and prototypes to present and critique multiple design ideas
Work collaboratively as a team to iterate and refine your design
Sell the power of a collaborative design workflow to the people who matter most in your organization
We want you to spend your effort in the parts of the design process that pack the most punch. We promise you'll look at your design process differently and immediately be able to see ways to trim the fat.
Who is it for?
This workshop is appropriate for all experience levels. This workshop is for designers, art directors, creative directors, developers, project managers, and anyone else who believes that responsive web design doesn't have to have a million comps.
What hardware/software do you need?
Laptop is recommended but not required.
Time & Location
This full-day workshop will be hosted at the Microsoft Technology Center and will take place before the two days of Smashing Conference. The workshop will be running from 9:30am to 5:00pm on Monday, October 22nd.
Microsoft is the Workshop Sponsor for SmashingConf2018, hosting workshops in the Microsoft Times Square facility. Note: Your workshop fee covers event costs and speaker payment – Microsoft does not receive any proceeds from your ticket fee.
Schedule for Monday, October 22nd
9:00 – Doors open, Registration
9:30 – Introduction & Kick-off
11:00 – Coffee Break
13:00 – Lunch
14:00 – Afternoon Session
15:30 – Coffee Break
17:00 – The End, Networking
Save $100 when signing up for the conference and a workshop!
On the Web

On Twitter

Workshop includes

Snacks and drinks
Tea and coffee
Lunch
Paper and pen/pencil