Aaron Draplin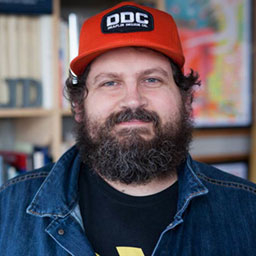 Aaron Draplin is a designer and founder of Draplin Design Co. (DDC), located in the mighty Pacific Northwest. The DDC has rolled up its sleeves on a number of projects related to print, identity, web development, and illustration. Priding itself on raftsmanship and quality, the DDC has made stuff for Field Notes, Esquire, Nike, Red Wing, Burton Snowboards, Ford Motor Co., Hughes Entertainment, and even the Obama Administration.
Things That Don't Have A Thing To Do With Graphic Design
As a graphic designer, I'm lucky to make things for all kinds of things. But more and more, I'm realizing the profound impact it has on the things in the rest of my life. Things in my backyard. Things that holds things. Things on the open road. Things in my bank account. Things for my nephew. Things for people I'll never meet. And things on one of the saddest days of my life. That's a lot of things. Plus, we'll update you on all the things we've been up to, aside from all these things. Tons of new things to talk about!