Gemma O'Brien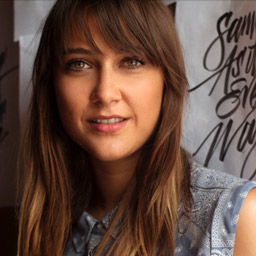 Gemma O'Brien is an Australian artist specialising in lettering, illustration and typography. After completing a Bachelor of Design at the College of Fine Arts in Sydney, Gemma worked as an art director at Animal Logic, Fuel VFX and Toby and Pete before deciding to fly solo as a commercial illustrator in 2012. Her typographic work takes on a variety of forms, from calligraphic brushwork, illustration and digital type, to large scale hand-painted murals.
She splits her time between advertising commissions, gallery shows, speaking engagements and hosting hand-lettering workshops around the world. Her clients include Playboy Magazine, Nike, Adobe, Volcom Stone, Kirin, Heineken, QANTAS, and Angus & Julia Stone. A number of her projects have been recognised by the New York The Type Directors Club with Awards of Typographic Excellence and in 2015 she was recognised as an ADC Young Gun.
Beyond Fonts: Elevating Lettering to Art
Join Australian artist Gemma O'Brien for a step-by-step look at her process of creating lettering for large-scale murals.
From collecting inspiration, sketching by hand, colouring on the iPad Pro, to painting the final piece, Gemma will share insights and tips on how she takes her designs off the page and into a physical space.
With live demos in analogue and digital, this session is perfect for designers who want to escape the screen and try their hand at calligraphy, lettering, and painting.